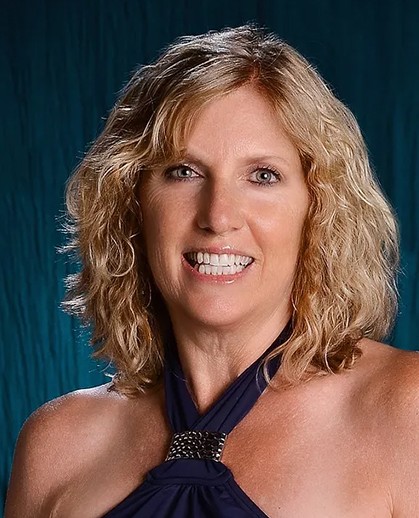 Jeanne Russell
Business Owner, Reiki Master, Teacher, Retreat Leader, and Coach
How long have you been doing what you do, how did you become a world renowned retreat leader and what prompted you to open a wellness healing center in Hawaii?
To answer this question, it's probably best that I share with you a defining moment, and a resulting "compelling story", that brought me to where I am today – coaching & mentoring people like you on exactly what to do to receive the healing and transformational energies of Kauai, Hawaii and develop their own profitable AND FUN retreat. 
That defining moment in my life happened in 2006. 
One night while doing Reiki (Energy Healing) on my husband, David, who had severe nerve injury on all four of his extremities, I had a transformational experience. While my husband was face down on a massage table in our basement, I was doing hands on healing energetic work on him. My heart was open and I very much wanted to help him feel better. Suddenly, I felt the presence of dolphins in the room surrounding us. They were at the windows and the glass door peering in and filling the room with love and light.  I was immediately filled with so much love that tears started to flow down my cheeks as I continued running the energy on my husband. This continued for the length of the session. Afterwards, David jumped up from the table and exclaimed, "What did you do?" I explained, "I don't know but the dolphins showed up!" Consequently,  he explained that he felt completely better and he had no pain anywhere on his body. 
From that moment forward, When every I did a healing session the dolphins would show up and assist me. On September 9, 2009 (09/09/09), I opened a healing center on Kauai Hawaii called Dolphin Touch Wellness Center devoted to the Energy and Vibration of the Dolphins. I work with clients in the ocean, on the Mermaid Massage Table (a water massage table, the only one on Kauai)  one-on-one or  hosting powerful and playful group healing retreats on Kauai, Hawaii. And now I am helping other healers come and experience the magic of Kauai and set up their own healing retreats. 
Since opening the center, I've worked with hundreds private clients, spoken in front of countless groups, lived my dream of hosting my own retreats, have my own healing center and share this powerful playful healing vibration from the dolphins to the public.
….and I have created "Build a FUN Business, BOOST Your Income & Create EPIC Retreats Your Clients Will LOVE!", a series of 12 important inner and outer spiritual business building steps every healer, coach, consultant, sole practitioner or alternative lifestyle specialist needs to apply to get out of their own way, and create a life they love. 
Who are your clients?
I work with people just like you who are holistic practitioners, energy workers, sales professionals and women entrepreneurs who are really good at what they do. Who are ready to take their business to the next level and introduce retreats into their business. I will be helping you to create and craft the ideal retreat for you, attract clients and have successful sales conversations so that you are generating consistent cash flow.
Coaches

Consultants

Authors

Reiki Masters

Wellness Center and Spa Owners

Emotional Freedom Technique Practitioners

Health & Wellness Consultants

Speakers

Massage Therapists

Holistic Practitioners

Sales Professionals

Natural Born Teachers

Photographers

Image Consultants

Artists

Creative and Spiritual Entrepreneurs


Solo-Entrepreneurs on a mission
What exactly is the "Being Seen and Heard" Program? 
This amazing program includes steps to help you create a program to help you get out there and be seen and heard to help walk you through the retreat process and to make your life and your career FUN!
Build a FUN Business, BOOST Your Income & Create EPIC Retreats Your Clients Will LOVE!   includes:
​Weekly group mastermind calls to answer questions, brain-storm ideas and review strategies to help make your retreat successful.
Monthly one-on-one coaching calls for personalized service, review of your programs and brainstorming sessions.
A FIVE-DAY RETREATon Kauai with me to help you experience the energy of the island, structure with clarity your own retreat, and get some awesome pictures of you on the retreat to post in your marketing messages.
Access to a private Facebook group where you can connect, share your ideas and concerns, and learn what others are doing with their retreats.
Your Business Promoted at our center
A supported webinar that we do together and I help you walk your way through the entire process.
Fourteen On-line Modular Program System to access whenever you need. Those programs include: 
1) Get Clear on Your Vision & Ideal Clients 
The power of intention in attracting the right clients that would be a perfect fit for you. This step is often overlooked and taken as a given, but it is so important for attracting the type of people that you will enjoy spending an extended period of time playing in paradise and living in intimate quarters with.
2) Theme of Your Retreat – Your Big WHY 
Its important that you understand what you are wanting to do with this retreat and why you would like others to experience with you. What do you want people to walk away with at the end of the retreat? Crating this clarity is important for you and your attendees to feel like they had a successful experience. How to pick an awesome title for your retreat- one of the most importance factors in attracting the right people for your retreat.
3) Nail Your Marketing Message -For your Retreat or Business 
Demystifying the sales attraction system with Facebook, Newsletters, Free Advertising and more. Creating a Marketing Strategy and help getting the word out there!
4) Daily Structure/ Schedule
Creating Plans and systems that work. How to space your retreat out properly. A Step-by-step guide to planning your itinerary so that your retreat attendees don't feel overwhelmed and also don't get bored!
5) How to Prepare Pre and Post an Event
Connecting with your retreat attendees before they arrive. Making sure you are aware of all specialized diets, health concerns, activity levels and other concerns that you want to be aware of beforehand to ensure your retreat goes off without a hitch. And then after the retreat, offering support and guidance as they transition into their new lives!
6) Pricing & Packaging
How to price, create spreadsheets and budget your retreat. Running the numbers – how to determine the minimum number of people needed to run a profitable retreat;  how you can incorporate a retreat into any business model;  how to get discounts on booking accommodations and negotiating contracts and organizing your payment structure – what to charge for deposits, early registration on-line specials, cancelation policies and more!
7) How to Handle, Derail & Prevent Difficult Situations, Clients & Healing Crisis
The way to handle difficult situations is to anticipate them before they arise. We discuss possible situations and suggested outcomes. 
8) Understanding How to Make Profit
Creating spreadsheets and price breakdowns that show the minimum number of attendees you need to break even. How to include all costs, including hidden ones. Adding in a profit margin for your services.
9) Attracting Clients
Getting clarity on your vision, what you can deliver and what the retreat attendee will be leaving with will help you naturally attract the ideal client for you. 
10) How to Create Extra Revenue With Your Business/Retreat
Offering other services during the retreats, partnering with locals and their service, and creating a continued support system after the retreat.
11) When to Launch Your Events: Optimal Times & Time Management
We will discuss the optimal time to have your retreat on Kauai, when not to come to Kauai, when to start planning your retreat and how long in advance to start marketing.
12) Breaking through the blocks that have your believing, "I can't do this!"
Breaking through the blocks that arrive in resistance to you being a retreat leader and really looking at your belief systems that are blocking you for making your dream a reality.
13) The importance of going the extra mile to for your clients
How you can start from the get go to make your retreat attendees feel loved, welcome and well-cared for. 
14) How to find creative ways to finance your retreat
Creative financing methods for you and your retreat attendees that you may not have thought of – grants, scholarships, organizations, etc.
​Whether you are running a retreat or just starting your business, these tips can help you along the way.
=======================
If you're ready to launch your retreat right away and want to get rid of all the negative resistance that stands in the way of your success. Welcome to the"Build a FUN Business, BOOST Your Income & Create EPIC Retreats Your Clients Will LOVE!" where we'll work together to pull out all of your negative beliefs, habits and subconscious blocks that are creating resistance in your life, your business and your dreams.
​How to breakthrough feeling overwhelmed with launching your retreat with my step by step process to help you get your retreat launched and filled but most of all have FUN in the process together! 
​We'll go through and look at how to create you ideal retreat and have an amazing business and lifestyle of your dreams. 
​You'll also get the tools & proven systems you need to ROCK it out and make extra income hosting your own retreat and create solid business building tools to give you more confidence when selling your service at premium prices. 
​You get accountability, community , proven systems, mindset and ME! Everything you need to help you really show up and SAY YES to the NEW evolution of YOU! 
What's covered? 
12 months of accountability and support within our FB group.
Weekly live Q & A calls, where I get on live and answer any and all questions you have. 
We talk about strategy, language your offers, mindset, overcoming fears, how to handle sales objections and more.
You get lifetime access to the membership site which has a 14-step proven secrets for successful retreat creation that exists for you to plug in and use right away to help you attract more high paying clients for your retreats. 
​And access to one-on-one coaching with me. Once a month we get together to answer any questions,  concerns, work through blocks and hone in on the specifics of your retreat.
​In addition, you get a 5 day Retreat in Kauai With me!  I take you to sacred sites, power centers, on excursions, hikes, do meditations, and eat yummy organic healthy foods. 
Testimonials from my Retreat Attendees:
Jeanne was easy to communicate with from the start, and very accommodating. During my stay I ran into a small issue of my own doing, but Jeanne was very responsive and helpful.…Gregor W.
Jeanne was great; very accommodating and informative! …Lynette A.
I had a great time on Kauai. Jeanne's place was perfect to explore the island. There are a couple of great restaurants around in walking distance, the river really close and even if you don't have a car – the bus is cheap and gets you to the North Shore…Laura R.
Spent 11 days and loved returning to the room because it feels like a home away from home. Jeanne was a great host as well!
I had a wonderful stay with Jeanne. She is a really lovely person and was incredibly helpful in all aspects of my trip. And even when there were a few glitches she was  very accommodating and helpful in organizing changes and sorting everything out. I had a really wonderful treatment with her and some other great treatments at Dolphin Touch as well as going on some absolutely stunning hikes with Larry at Secret Kauai. Thank you so much to you both for being lovely and understanding…Katherine S.
The magic is with Jeanne and all the people that surround her and the Dolphin Energetic Center. Jeanne was incredibly accommodating while I was staying with her. I did a treatment with her, she made me breakfast one morning, and she had fantastic recommendations on what to do while I was in Kauai. All of that made my trip fantastic. If you're an energetically mindful person and want to be around likeminded people this is your spot….Steve S.
I felt very welcomed by Jeanne and her associates. The accommodations were comfortable, clean, and spacious…Francine S.
My two weeks with Jeanne at "A Little Piece of Heaven" was just amazing. The room was perfect-very clean and exceeded my expectations. The staff at the Dolphin Touch are very nice and hospitable–during the time I had two massages, acupuncture, Bio Mat, and an outing with Jeanne. Kauai, the staff, and Jeanne made this a very spiritual event for me. I highly recommend visiting the Dolphin Touch and staying at "A Little Piece of Heaven"…Craig N.